Paddington Children's Centre (PCC) is an 80 place long day care centre. We are open 51 weeks per year with an annual scheduled closure over the Christmas and New Year period at no charge. PCC has a wonderful reputation in the community due its to service excellence.
We are a Uniting service. Uniting Early Learning is the 3rd largest provider of community based education and care services in NSW. PCC is a Shared Governance Service with Parents on the Board of Management, ensuring a strong commitment to our local community.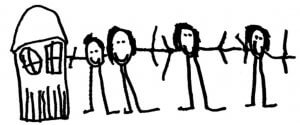 National Quality Standards
Paddington Children's Centre received EXCEEDING in all 7 Quality Areas when assessed against the National Quality Standards.
The National Quality Standard (NQS) is a key aspect of the National Quality Framework (NQF) and sets a high, national benchmark for early childhood education and care, and outside school hours care services in Australia.
It gives services and families a better understanding of a quality service, helping families to make informed decisions about the services providing education and care to their child. The NQS brings together the 7 key quality areas that are important to outcomes for children.
Statement of Purpose
Values
2022 FEES
Bond is 2 weeks of fees paid in advance per child upon enrolment. Your bond will be refunded when your child leaves the centre.
The service maintains above regulation qualified Educators and ratios. Our excellent retention in Educators results in wonderful continuity and secure relationships.
The Service Director and Educational Leader have both worked at the service for 20 years and have established a strong professional culture that strives for service excellence.
Paddington Children's Centre provides
7 Early Childhood Teachers – 3-4 year University Qualification
2 Qualified cooks
6 Qualified Advanced Childcare Workers – 2-year TAFE training
13 Certificate III – 1-year TAFE training
All staff have current First Aid Certificates
A minimum of two qualified educators in every room
Our daughter has thrived in all areas during her time at PCC. The consistent and stable teaching team has supported the development of strong and trusted relationships
I really like going on excursions.
I get to learn and be creative.
Lunch is my favourite thing. You can go up to the kitchen window anytime.
They help me when I need it and make me feel happy.
We go out on adventures and see nature.
There are not many kindy's that look like this.
You can play games and puzzles with your friends.
We have been at the Centre for more over 4 years now, I am still constantly blown away at the amazing care and education my children receive. I am so grateful at the endless love, innovation and care that my children receive. We are always welcomed with open arms, my children are happy and excited to come to the Centre. The program has supported self-confidence, self-belief, values of empathy and kindness, and acknowledgement of importance of nature and caring for the environment.
PCC is a special place with very capable and nurturing educators. PCC takes a holistic approach to ensuring the wellbeing of our children and the educators have an open dialogue with parents and we jointly agree on tailored goals for our children that we work on together. Our family really value the play based learning approach that PCC adopts and our children have always found this makes learning fun and part of their everyday interactions and environment.
I was lucky enough to have all three children enrolled at Paddington Children Centre at one stage. When we returned from living abroad I interviewed at least 15 Centre's in my area to find the one that was right for my family. I can't thank the centre enough for all the ongoing support and kindness that you show our family.
I like it cause it's fun and I can play all day
It's amazing cause there are lots of things to do.
I really love playing in the sandpit so much.
The care and education provided at PCC is second to none. The educators are caring and compassionate. Daily nutritious meals are provided, to give my son the best possible start. I could not be happier with the quality of the Centre'
Our Philosophy
Paddington Children's Centre believes: